Physical Therapy In Mid-County, St. Louis
Providing Superior Physical Therapy in Saint Louis, MO
At Peak Sport and Spine Physical Therapy, located in Saint Louis, Missouri, we strive to provide excellent and cost-effective care for a wide variety of conditions. Our clinic can be found at 425 N New Ballas Rd. Ste 202, Creve Coeur, MO 63141. As a 100% therapist-owned company, we are committed to a truly patient-centered approach, ensuring that your recovery is directed by you rather than a hospital or healthcare corporation. This approach builds trust and fosters successful outcomes, leading to referrals from practitioners who rely on the outstanding results we achieve for their patients. Our ultimate goal is to assist you in achieving your goals and restoring your well-being.
Golf Performance & Rehab
Dry Needling
Sports Performance & Conditioning
Vestibular Therapy
Headache Treatment
Manual Therapy
TMJ/TMD
Kinesio Taping
Functional Movement Systems
Pain Management
Sports Medicine
Pelvic Floor Therapy
VO2 Max Testing
Workers Compensation
Pediatrics
Geriatrics
Why Mid-County Stands Out
Community-Centric Approach: At Mid-County, we understand the pulse of Saint Louis. Our treatments are not just about physical well-being but also about ensuring our patients return to their daily lives, be it the bustling streets of Saint Louis or the tranquility of their homes.
Cutting-Edge Facilities: Our Mid-County location boasts some of the most advanced physical therapy equipment and methodologies, ensuring that our patients receive care that's both innovative and effective.
Expert Team: The therapists at our Mid-County clinic are not just skilled but also deeply passionate about their craft. They continuously update their knowledge and techniques to provide the best care possible.
Tailored Treatments for All
Whether you're recovering from a sports injury, a work-related accident, or seeking relief from chronic pain, our Mid-County clinic offers a range of treatments. From post-surgical rehabilitation to advanced manual therapy and sports medicine coverage, we have solutions that are tailored to your specific needs.
Join the Peak Sport and Spine Family
When you choose the Mid-County location, you're not just getting a therapy session; you're becoming a part of a community that genuinely cares. Our staff is dedicated to ensuring that from the moment you step in, to the time you leave, your experience is nothing short of exceptional.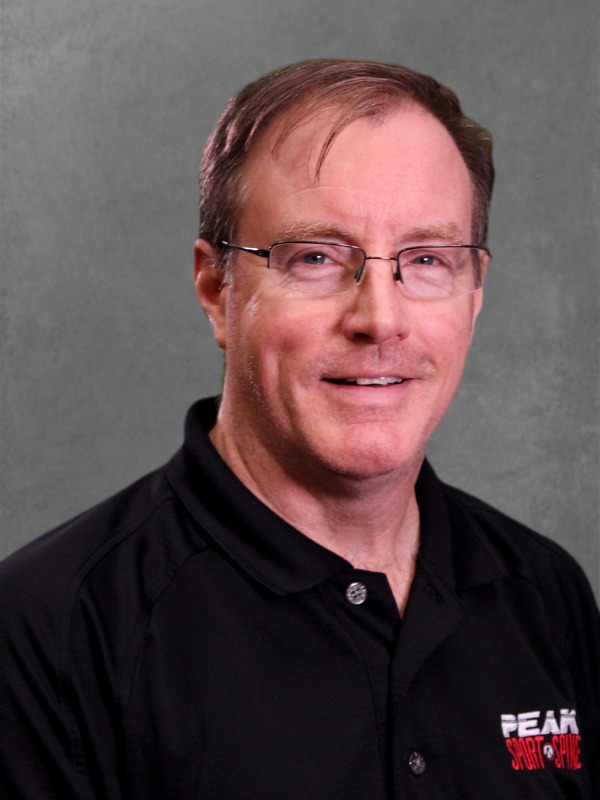 Shawn Everson
Clinic Director & Physical Therapist
Arik Poremba
Physical Therapist
Christi Holmes Krus
Physical Therapist
Cheryl Keil
Physical Therapist
Zach Boyle
Physical Therapist
Morgan Hasbrouck
Physical Therapist
Jaime Boswell
Physical Therapist
Kayla Kelley
Physical Therapy Assistant Certified Athletic Trainer
Christina Spurgeon
Physical Therapist
What Our Clients Are Saying
"I fell in March 2022 and fractured vertebra #2 in my neck. I was just allowed to remove the neck collar and I had to be wearing day and night. I started physical therapy at PEAK Sport & Spine a few weeks ago and am so pleased with my therapist. She is very knowledgeable about such injuries and has been very helpful and patient. Mobility, balance, and neck movements are my issues. I am making progress. I expect and hope to be able to be rid of my walker soon. Christi Krus-Holmes has been a great help." – Donna C
"I have been dealing with foot pain for 7~8 years now. Tried various options, doctors and PTs until now. Arik is great to work with. I felt confident the moment I met him and his approach to diagnosing & solving issues. He has given me hope again that I still have a chance to get rid of my foot pain and be able to do activities that enjoy doing." – Joseph T
"It's been 25 years since my last PT experience with another provider and I remember it was a waste of time. So, I was highly skeptical that any PT could help me. But, my wife encouraged me to try PT again. Well, in my first appointment with Cheryl, I learned a tremendous amount on how I can strengthen weak areas in my lower back and legs. Through careful and thorough assessment, Cheryl identified what's going on and gave me specific exercises to do. In only a week, my weak areas are already getting stronger. Cheryl is a great physical therapist!" – Jim G
"I am more than happy to tell you that Zachariah Boyle is my Physical Therapist. The way he treat me is incredible . So respectful, his attitude is all the time so wonderful the way he teaches me is great . He was also the physical therapist of my husband and the only words for him was " Zachariah is great " I will not change him for nobody."
– Cecilia H
"Jaime is wonderful! Very professional, knowledgeable and friendly! She quickly evaluated key areas of my body that need help, treatment that day that gave me some relief and helpful stretches to continue healing. I look forward to working together for a healthier body and improved lifestyle!" – Cindy W
"PEAK has a warm and welcoming environment from the moment you reach the reception desk! My therapist, Morgan, always greets me with a smile and is very knowledgeable and personable. I look forward to my physical therapy sessions because I know that I will be engaged mentally, physically, and socially. I have learned a lot about how to strengthen my weak areas and ways to prevent problems moving forward. I am so happy I found PEAK Sport & Spine Physical Therapy." – Abby H
"The staff is friendly and helpful. The physical therapists are a wonderful dealing with so many different problems. I fell recently and Christina modified my workout to make sure I didn't hurt myself. Great" – Anne B
"This is by far the best Physical Therapy place to go to receive the best care for your rehabilitation. They truly care deeply for your full recovery. They attempt to minimise your pain while they slave over you. They are friendly and always smiling and making you feel good even if your not. 🙂 "Your in good hands" but there not selling you something except good health" – Alex D
Hours
M:8a-6p T:7a-6p W:8a-6p Th:7a-6p F:8a-5p
©2023 Peak Sport & Spine. All Rights Reserved.